Delivery Information
UK & BFPO Delivery.
ODIN offer a standard shipping service, free of charge, to BFPO customers while serving abroad with a valid British Forces Postal address. For all UK customers standard shipping service, free of charge when spending over £75.00 GBP.
We understand how important it can be to get your order delivered on time for so we do offer a number of service upgrades including: Next Day Delivery, Special Delivery Before 1pm, Special Delivery Before 9am, DPD Express, Parcelforce & DHL, as well as a number of express International services including Track & Trace.
We want your order delivered when you do, that's why we actively work with our shipping partners to monitor for possible delays. If a problem ever arises, our team is on hand to action and resolve in a timely manner.
Please Note the Following
Our cut-off for next day delivery is 1400 GMT Every Working Day, however this time can change due to couriers/Royal Mail - We will do our best to process orders up until our couriers arrive.
Any orders placed after this period on a Friday, and all orders placed on a Saturday & Sunday will not be processed until the next working day
A working day is classed as Monday (Excluding Bank Holidays) to Friday, any orders placed over the weekends and holiday periods will be dispatched next working day.
ODIN delivers to the whole of the UK. However please note that certain services might be restricted in some areas and deliveries may take longer (these areas are listed below).
Due to the distance and courier restrictions, we are not able to offer all express next day services and Saturdays delivery options to some parts of the UK.

Courier services to the areas listed below will generally take an additional 1-2 working day(s).
AB - Aberdeen, BT, Northern Highlands, EI (ZZ75) All Eire Republic of Ireland, FK Falkirk Northern Highlands, EH18-55, G Glasgow, HS - Isle of Lewis Northern Highlands, HS Oban, IM - Isle Of Man, IV- Inverness Northern Highlands, JE - Jersey, KA Arran, KA Oban - Ayrshire, KY - Kirkcaldy, KW Northern Highlands, KW, Orkney Shetland, PA Oban, PL Northern Highlands, PH Oban,TR, Cornwall, Isles of Scilly,Isle of Wight, ZE - Orkney Shetlands.

International Shipping
At ODIN we ship to over 240 countries worldwide using DPD, DHL and Royal Mail. International shipping costs are based on the order weight, value and geographical location as such we will choose the most appropriate carrier depending on the above.
Our simple shipping calculator will work out your shipping costs for any product or country using our shipping estimator (detailed instructions below).
UK VAT & Customs & Import Tax

For all UK based orders, we charge VAT at 20% except for qualifying tax-free BFPO addresses.
Normal prices on the site include this 20%. When you checkout and an address that is eligible for VAT FREE shopping, the VAT will be deducted, and this will be clearly shown to you.
More information on BFPO Shipping can be found here
.
All other countries outside the UK please be advised, there may be taxes, fees or other charges that you will be expected to pay. We recommend that you check with your local customs office before placing an order as these charges vary from country to country. We do not have any control over these charges and do not hold current duty rates on file.
If these local import and custom charges are refused or not paid by you, then the item could be returned to ODIN or destroyed. If your order is not returned to us in these circumstances, we may not be able to refund you for your order.
If the order is returned, we would not be able to refund any original postage costs paid and any charges levied at us as such we could only refund for the returned products less those costs.
Cost and Speed
Step 1
Add a product to your shopping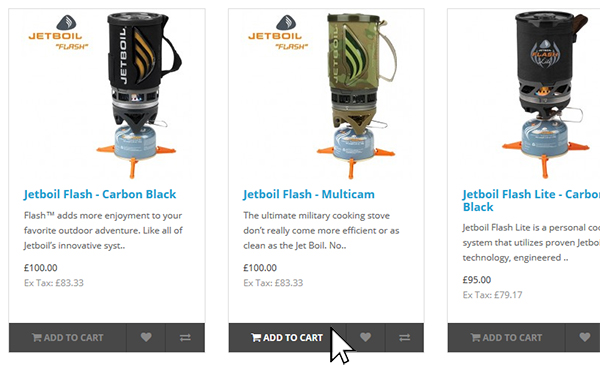 Step 2
Go to the shopping cart by clicking the link in the top right.




Step 3
Input your address details in the Shipping & Taxes estimator, click apply and the correct shipping and tax will be applied.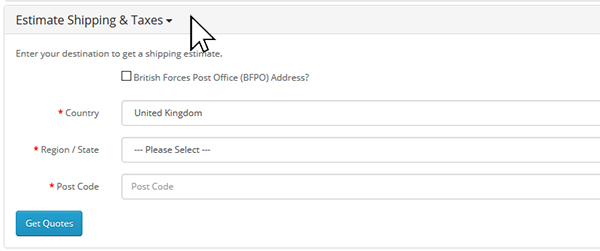 Queries
We would be happy to answer any queries you may have about international shipping. Please call or use our contact page to drop us a line.